NoMa Now (2023)
A snapshot view of the NoMa neighborhood, and of the work we do to build, support, care for, promote, and celebrate it.
November 2022 — Updated to include more recent information and the work completed since the inception of the plan in late 2021.
The NoMa BID: NoMa's Champion & Steward
NoMa Business Improvement District strives to be both a vocal champion and an effective steward of the NoMa neighborhood on behalf of all of its businesses, employees, residents, visitors, and the city as a whole.
In our role as cheerleader, we promote NoMa, attracting attention and business activity. We host our own events and sponsor the events of others. We create and celebrate public art. And we connect visitors, workers, and residents to experiences and opportunities they can enjoy.
Our stewardship of the neighborhood is evident in the work of our Ambassador Operations team, cleaning and beautifying the streets and public spaces. And behind the scenes, our staff is coordinating and communicating, building relationships and engaging stakeholders to create long-lasting investments and commitments to what NoMa can become.
Supporting & Growing NoMa Businesses
The NoMa BID provides a vital layer of support for the businesses within Greater NoMa. We know that a thriving business community runs on diversity—diversity of ideas, of sectors, of sizes, and of target markets. We work hard to connect businesses to the people who live and work in NoMa, and to cultivate a physical and cultural environment where everyone can flourish.
We connect NoMa's businesses with advice, guidance and promotional support, we conduct and analyze research, and perhaps most impressively, we build and maintain dazzling public spaces. We're always on the lookout for new ideas and approaches to serving businesses and their employees, and we create adaptive communication channels for owners, tenants, managers, and workers to connect with us and provide feedback.
Cultivating Community & Identity
NoMa has experienced dramatic change since the NoMa – Gallaudet University Metro Station was built in 2004. Its identity continues to develop as a growing volume of new residents, businesses, institutions, and public space improvements make their mark.
When residents, employees, and visitors of these parts think about NoMa, they don't think of lines on a map, but instead think of a growing and vibrant neighborhood that provides convenient access to the rest of DC and the region. When employers think about NoMa, they see an affordable and accessible alternative to downtown.
Throughout the input phase of this plan, we heard from employees, residents, and stakeholders that community & identity represented a next frontier for NoMa, but conversely that the BID could not directly create them. Instead, the strategy we've embraced is to create the spaces, experiences, and opportunities that will help community and identity develop, grow, and flourish.
Our Successes & Assets
NoMa's success is evident in everything from the large number of cranes dotting the skyline to the thriving businesses that line the streets and fill the office towers. As this plan kicks off, the neighborhood is in the middle of another construction boom, continuing to attract large volumes of private investment. Currently (Summer 2021), the NoMa BID comprises 12.6 million square feet of office space, 5,922 multifamily residential units, 622 hotel rooms, and 425,000 square feet of retail. When the buildings currently being built are completed, all of these numbers will have increased, some quite dramatically:
Public investment in NoMa has been just as foundational to the neighborhood's success. The NoMa Parks Foundation is wrapping up its execution of the District of Columbia's $50 million investment in NoMa for the creation of public park spaces. And tens of millions more will be applied to projects such as the reconfiguration of the intersection at New York and Florida Avenues NE to calm traffic and create stunning new public plaza and green spaces, the replacement of the H Street Bridge, the addition of bike lanes on Florida Avenue NE and K Street NE, and new Bus Priority measures on H Street NW.
But NoMa's oldest and best asset remains the same: location, location, location. As the business focus and cultural attention of the city shift eastward, NoMa is perfectly positioned to become a new hub of DC life.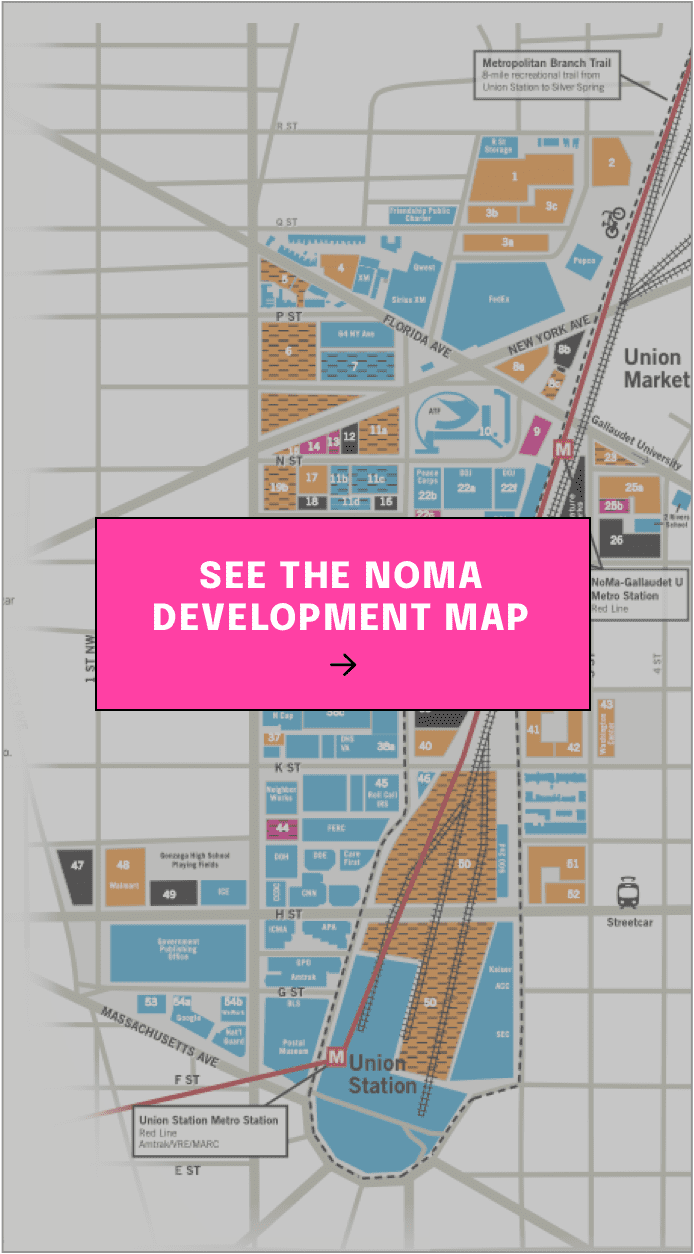 The Ground Floor: NoMa's Retail
As retail-heavy districts around the world suffered from the effects of the pandemic, a growing residential population in NoMa continued to support neighborhood businesses even as offices emptied out. NoMa's retail establishments pivoted swiftly to meet the changing needs of the neighborhood, and while some closed temporarily, most have since reopened their doors and resumed normal operations. Meanwhile, retail vacancy is around 12 percent, and interest in the neighborhood remains high. By several metrics, NoMa is on the cusp of a retail boom, with ten new establishments opening in 2021, and more than 240,000 square feet of retail space now under construction (a 57% increase in supply). As you'll see below, we will adapt our retail strategy for NoMa to make the most of these opportunities, and we are excited about what the future holds in this space.
The NoMa Lifestyle: Residential
Living in NoMa is ideal for anyone interested in being a part of the culture and vibrancy of the District of Columbia. Our location can't be beat, and that, along with our relative affordability, is the main draw for current and prospective residents alike. The NoMa BID added about 1,600 multifamily residential units over the past few years (a 37% increase), including the NoMa BID's first condo buildings. Construction in this sector continues at a rapid pace, and at a scale that will reshape the neighborhood over the next several years. As of this writing, 3,500 multifamily housing units are under construction within the NoMa BID. Upon completion, this would constitute a 58% increase in the supply of NoMa's multifamily residential stock and include additional homeownership opportunities. All told, more than 12,200 people now live in NoMa / Union Market today, with roughly twice that expected by the end of Fiscal Year 2026.
Staying Power: NoMa's Offices
NoMa's office market is strong and balanced. Vacancy numbers have been stronger compared to that of the rest of the District of Columbia, hovering around 6% since early 2019, while District-wide vacancies increased to above 12%. The key to our office resiliency is reliable long-term office tenants, such as federal government agencies, landmark anchor office tenants like National Public Radio, and a healthy mix of residential, retail, and hotel offerings that support the office market.
NoMa's Parks & Public Spaces
Five years ago, we laid out an ambitious public spaces agenda that built on the 2012 Public Realm Design Plan and we committed to delivering outstanding public spaces. Since then, the NoMa Parks Foundation (NPF) has used its $50 million grant from the District of Columbia to create dazzling, inviting green spaces throughout the neighborhood and has invested in establishing outdoor recreational space in a rapidly developing and formerly parks-starved community.
Today, NoMa's public spaces are varied, unique, and establish the neighborhood as a place where everyone is welcome to spend some time. And more public spaces are on the way in NoMa.
Explore highlights of the current and future parks, plazas, and arts in the map below.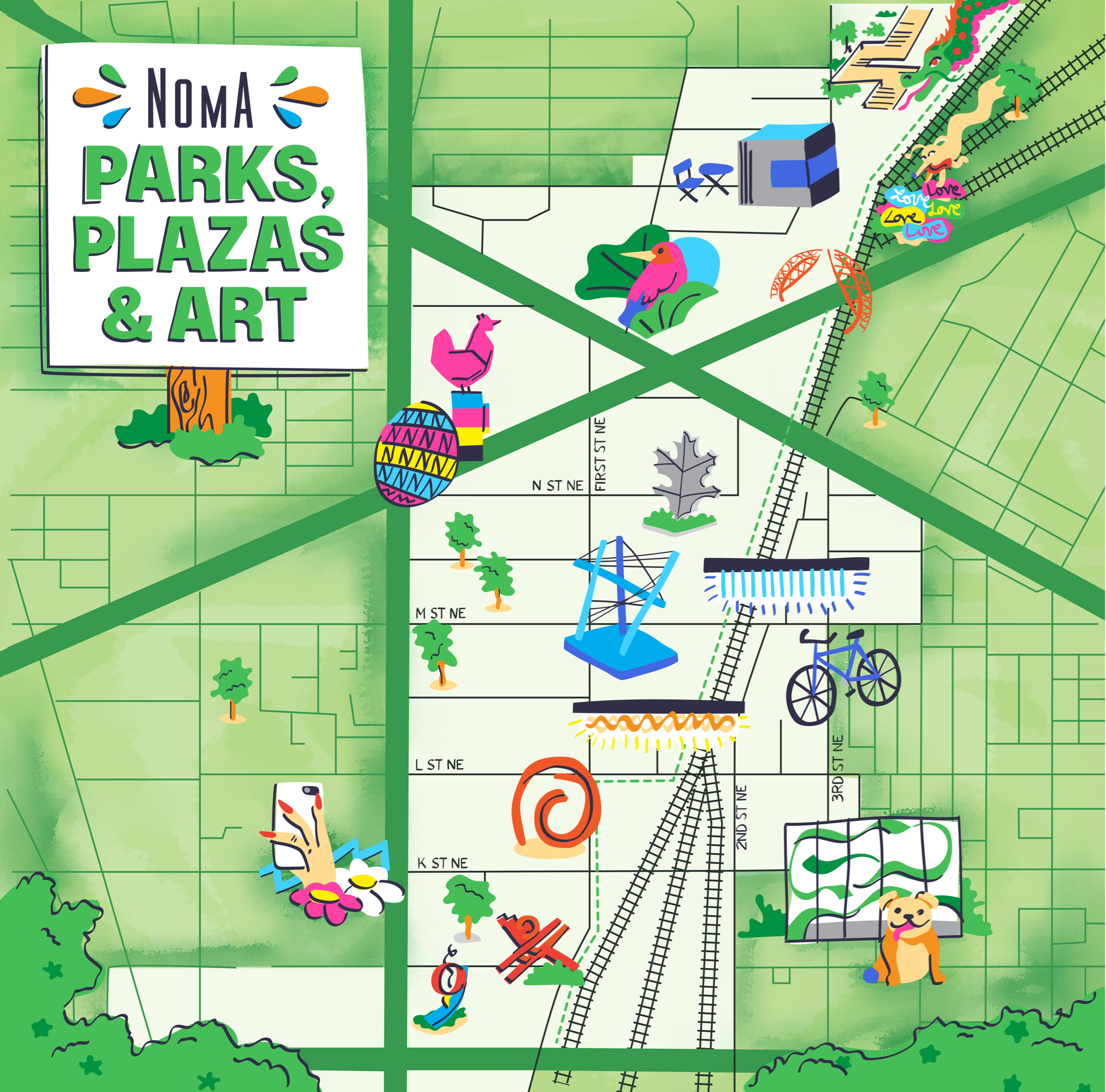 Eckington's new meeting point. An energetic and vibrant lane that welcomes the amenities of big-city life to this charming neighborhood in D.C.
100 block of Quincy Lane
Short linear park/plaza connecting Florida Avenue NE and Morse Street NE, includes a mural and industrial sculpture.
North side of Florida Ave. NE
plaza
N Street Metro Plaza
Busy small plaza with bike parking and seating in front of the Metro entrance.
East side of 2nd Street NE
Linear pedestrian space connecting N Street NE and M Street NE, includes the sculpture Journeys.
West of Metro station
Linear pedestrian space connecting M Street NE and Patterson Street NE and providing access to retail.
Unit block of M street NE
Busy small plaza with bike parking and seating, as well as café space for businesses.
200 block of M Street NE
Quiet park/plaza providing an urban refuge, including ample seating, flowerbeds, and greenery.
800 block of North Capitol Street
plaza
CNN-CareFirst Plaza
Linear pedestrian space connecting buildings and businesses with First Street NE, including seating and the sculpture Trigadilly
800 block of 1st Street NE
Quiet plaza providing rest and seating for workesr in nearby buildings.
Unit block of G Place NE
2013, Kent Bloomer Studio
200 block of New York Avenue NE
art
The Chicken & The Egg
2019, RSM Design
Unit block of New York Avenue NE
2004, Barbara Grygutis and Dolores Kendrick
N Street Metro Plaza
2014, NaDaaa Design
1200 block of 1st Street NE
2018, Thurlow Small Architecture and NIO Architecten
100 block of M Street NE
2019, Future Cities Lab
100 block of L Street NE
2018, John Clement
100 block of K Street NE
art
Composition for the Axemen
1989, Ken Wyten
800 block of 1st Street NE
1990, Chas Coburn
CNN-Carefirst Plaza
murals
Supreme BBQ/Aunteaboba (West Wall)
Chris Pyrate
2 Florida Avenue NE
murals
Metropolitan Branch Trail (East Wall)
Multiple Artists
Metropolitan Branch Trail
murals
PEPCO (West, North, & East Walls)
Mulitple Artists
101 Harry Thomas Way NE
murals
1300 First (North Wall)
Aniekan
1300 First Street NE
murals
37 New York (West Wall)
NOSÉGO
37 New York Avenue NE
murals
33 New York (East Wall)
Birdcap
33 New York Avenue NE
murals
AVA NoMa (West Wall)
James Bullough
55 M Street NE
murals
Kerr Conway (East Wall)
Kate Deciccio
1005 North Capitol Street
parks
Alethia Tanner Park
Expansive park featuring a playground, separated dog park, café kiosk with ample seating, natural meadow space, outdoor screen and audiovisual structure, and a large lawn.
227 Harry Thomas Way NE
Large dog park and a kids' playground area featuring a Wallholla, a unique vertical play structure for kids.
1030 3rd Street NE
Neighborhood park on a quiet street corner, featuring an herb garden, checker/chess tables, outdoor workspace, and a boxcar for events.
1100 3rd Street NE
parks
The Lawn at Banner Lane
Multi-purpose public park that creates a neighborhood gathering space at Banner Lane, featuring a lawn, sculptural seating, and access to the courtyard level.
89 L Street NW
Greater NoMa
There is even more to the NoMa neighborhood beyond the BID's boundaries. Today, the NoMa cultural footprint extends farther than our founders could have imagined. This concept of what comprises Greater NoMa is fluid, of course, and context-dependent, but there were some consistent ideas of what was included:
Dense and relatively new mixed-use development in the BID and parts of Union Market
Stable single-family residences east of the BID and in Eckington
High-density affordable housing immediately west of North Capitol Street
Diverse, popular retail offerings mixed with warehouses and wholesalers at the core of Union Market.
Since 2016, the Union Market area has grown into an incredible destination on NoMa's doorstep, with about two million square feet of mixed-use development, including more than 1,900 residential units and about 220,000 square feet of office space. The residential projects were the first large scale multifamily developments to deliver, illustrating a notable shift from the primarily retail and warehouse uses that had characterized the area. With new properties also came new vibrant and unique retail tenants and restaurants. Up to three million additional square feet could deliver in the next five years, with continued focus on residential projects.
The built environment on the west side of North Capitol Street is also changing. Historically, affordable housing projects such as Sursum Corda, Tyler House, and Sibley Plaza have characterized the area. However, Sursum Corda is currently being replaced by a project that will include an even larger volume of affordable units, in addition to 900 new market rate units. This redevelopment, in addition to MRP's Northwest One project (both currently under construction), promise at least two million square feet of residential development with a relatively high proportion of affordable housing units.
NoMa sits at the center of a web of growing and exciting neighborhoods. To the east, H Street NE is a rapidly developing, transit-oriented, and retail-dense corridor that is only a 15-minute walk from the core of NoMa, with DC's historic Capitol Hill neighborhood only a few blocks to the south. Northeast lies thriving Union Market, and beyond that, the trendy industrial triangle of Ivy City. The more downtown-like Mt. Vernon Triangle lies due west, while Truxton Circle and Shaw extend northwest. Northward, neighborhoods like Eckington, Brookland, and Brentwood connect to NoMa via the Metropolitan Branch Trail, a critical biking and walking corridor that brings walkers, joggers, and bicyclists through our streets every day.